The ONE Picture (And War) That Haunts China's Military Like No Other
For its part, the Second Artillery shifted its focus from nuclear deterrence to long-range precision strike, with both ballistic and cruise missiles. Developing a modern appreciation of military-systems integration, the PLAN, PLAAF and Second Artillery have also emphasized joint operations, with a focus on developing command, control and communications procedures that allow the efficient, coordinated use of military force. However, it's hard to evaluate the success of such planning in the absence of wartime experience.
In 1991, Chinese military officers watched as the United States dismantled the Iraqi Army, a force with more battle experience and somewhat greater technical sophistication than the People's Liberation Army (PLA). The Americans won with casualties that were trivial by historical standards.
This led to some soul searching. The PLA hadn't quite been on autopilot in the 1980s, but the pace of reform in the military sector had not matched that of social and economic life in China. Given the grim performance of the PLA in the 1979 Sino-Vietnamese War, as well as the collapse of the Soviet Union, something was bound to change. The Gulf War provided a catalyst and direction for that change.
Learning:
To get a sense of why the Gulf War matters for the PLA, we need to take a quick detour into organizational theory. Armies learn in several different ways; experiments, experience, grafting (taking members from other, similar orgs), vicarious learning and scanning. In 1991, the PLA lacked any relevant experience in modern warfare since the disastrous campaign against Vietnam in 1979. It lacked the funds and the political wherewithal to undertake the kind of large-scale exercises necessary for modern war. Grafting is notoriously difficult for modern military organizations, as it's become awkward to simply hire sergeants and colonels from foreign countries.
This leaves scanning and vicarious learning, both of which involve trying to learn as much as possible from the environment (scanning), and from the experiences of other armies. In 1991, the Gulf War made apparent both what worked (the United States military) and what didn't work (the Iraqi military). It's not surprising, in this context, that the Gulf War would have such a big effect on the PLA.
Equipment
One big problem came on the equipment side.
By 1990, the technical sophistication of the PLA had deteriorated to the degree that Iraqi forces enjoyed a considerable advantage over their Chinese counterparts. The Iraqi Air Force included MiG-23s, MiG-25s and MiG-29s, while the PLAAF relied on Chinese-produced copycats of the MiG-21, as well as older aircraft such as the MiG-19. Similarly, the Iraqi air defense system, which had failed to incur major damage on waves of attacking American aircraft, was at least as sophisticated as the systems China was capable of employing.
The Chinese had also discovered, through access to Iraqi tanks captured by the Iranians in the Persian Gulf War, that the Iraqi T-72s that presented no challenge whatsoever to the U.S. Army were considerably superior to extant Chinese tanks. Although the Gulf War didn't involve serious naval combat, it wasn't hard to infer that the problems likely afflicted the naval sector, as well.
The balance between quality and quantity has shifted back and forth historically. In the Chinese Civil War and in Korea, the PLA took advantage of numbers and tactical effectiveness to defeat (or at least level the ground with) more technologically sophisticated opponents. In Vietnam, injections of critical anti-access technology had helped blunt U.S. air offensives. Historically, the PLA had hoped that numerical advantage would help even the playing field against one of the superpowers, but the U.S.-led coalition cut through quantitatively superior Iraqi forces like a hot knife through butter. Iraq demonstrated that, at least as far as conventional warfighting was concerned, the balance had shifted heavily in favor of technology.
This understanding of the Gulf War helped drive PLA modernization. Especially in air and naval forces, China took immediate steps to update its military technology, generally through purchasing the most-advanced Soviet hardware. Strapped for cash, Russia was eager to make deals, and didn't worry overmuch about the long-range consequences of technology transfer. China also attempted to acquire technology with military applications from Europe, but sanctions associated with the Tiananmen Square massacre hamstrung this effort. Finally, China accelerated efforts to increase the sophistication of research and development in its own military-industrial base.
Doctrine
Along with the changes in technology came changes in doctrine and in expectations for how war would play out. The PLA began to emphasize airpower more than ground power, and in particular, investigated the potential for long-range precision strike. Historically, the PLA has never had the opportunity to carry out significant, operationally relevant strikes behind enemy lines, cooperation with guerrilla formation in the Civil War notwithstanding. Indeed, the PLA even lacks experience with traditional, " deep battle " maneuver warfare, in which the exploitation of breakthroughs gives armored spearheads the ability to disrupt enemy logistics and command.
While the Gulf War did not demonstrate that deep strike could decisively win modern wars, it undoubtedly did show that long-range precision strike could help disrupt enemy operations, and even seriously attrite fielded enemy forces. The PLA immediately began to develop its capability in this area. The People's Liberation Army Navy (PLAN) and the People's Liberation Army Air Force (PLAAF) grew in importance relative to the ground forces of the PLA (although, this has as much to do with the disappearance of the Soviet threat and the decline in importance of North Korea as it does with a new understanding of technology), and both began to concentrate on platforms that offered long-range strike opportunities. The two services also began to shift towards smaller numbers of higher-technology systems.
For its part, the Second Artillery shifted its focus from nuclear deterrence to long-range precision strike, with both ballistic and cruise missiles. Developing a modern appreciation of military-systems integration, the PLAN, PLAAF and Second Artillery have also emphasized joint operations, with a focus on developing command, control and communications procedures that allow the efficient, coordinated use of military force. However, it's hard to evaluate the success of such planning in the absence of wartime experience.
Conclusion
Did the Chinese overstate the implications of the Gulf War? Yes and no. Revised scholarship on the Gulf War has made clear that whatever the impact of "shock and awe," the coalition's conventional military superiority carried the day. American and British forces had significant technical advantages, but they also had much better training than the Iraqis, the experience of the Iran-Iraq War notwithstanding. The air war set the stage for coalition victory, but the coalition still needed to excel at conventional maneuver warfare in order to succeed.
Still, the Gulf War provided Chinese military and civilian decision-makers with a ready example of what modern war looked like, and gave some lessons about how to fight (and how not to fight) in the future. The PLA has become a radically more sophisticated organization—with much more effective learning capacity—than it was in 1991. We have yet to see, however, how all the pieces will fall together in real combat.
The article first appeared on National Interest Blog and was written by R. Farley. Robert Farley is a Senior Lecturer at the Patterson School of Diplomacy and International Commerce.
Israel Might Turn to US For Weapons as Syria Gets Russian S-300
Russia's decision to deliver S-300 air defense systems to Syria will face Israel's counteraction and might be used by the Jewish state as a pretext for receiving more advanced weapons from the United States, experts told Sputnik on Monday.
Earlier in the day, Russian Defense Minister Sergei Shoigu announced measures on increasing security of Russian servicemen in response to the crash of Russian Il-20 military aircraft in Syria, which Russia believes Israel was responsible for. According to the minister, Russia would equip the Syrian air defense forces' command posts with automatic control systems, which had been previously possessed only by Russia, jam satellite navigation, on-board radars and communication systems of combat aviation attacking Syrian targets and, most importantly, supply S-300 air defense systems to Syria.
Announcing the deliveries of the Russian air defense systems, Shoigu indicated that Russia suspended the shipments of S-300 systems to Syria at Israel's request in 2013, but stressed that since then the situation had changed and not through the fault of Russia.
Israel To Attempt To Stop Missile Systems
According to experts, Israel might attempt to pause the Russian missile systems since they threatened to become an obstacle to frequent airstrikes on targets in Syria.
"Of course, Israel will try to attack and pause the air defense positions, but will not be able to execute that since the Syrian army has already remedied not only this aspect, but also other fields and can stand up for itself properly," Syrian political analyst Ali Ahmad told Sputnik.
Egyptian military expert Adel Suleiman agreed with Ahmad, saying that Israel might attempt to attack the air defense systems in the future.
"Israel quite well can attack these systems. He has been used to carrying out attacks on air defense systems in Lebanon, Syria over last 45 years, regardless of whether it was a military base or a radar system," Suleiman said.
He also warned that Israel might try to talk Moscow out of handing over its missile systems to Syria, asking it to abandon or postpone the device.
"Israel as usual will try to persuade Russia to call off or postpone the deal, since this decision clearly is targeted against it. Israel will try to persuade Russia in the future it will much more careful in coordinating areas and targets of future operations," Suleiman added.
Tarek Ahmad, a representative of the Syrian Social Nationalist Party (SSNP), in turn, doubted in his comments to Sputnik that the deal might be delayed, saying that Russia was firm in its intention and was not merely employing a negotiating tactic with Israel.
"Some say that Russia has threatened to deliver S-300 to Syria before, but never did, and this could be a negotiation tactic with Israel, but not this time. This time there is a date and the message is delivered by the Russian defense minister. It will be executed. Russia and Syria maintain already signed the deal on S-300 deliveries and it will be implemented," Ahmad said.
Us To Join The Game
Since the deliveries of Russia's air defense systems to Syria seem to be inevitable, experts in their comments to Sputnik said they believed that Israel might spend the issue as a pretext to quiz the United States for increased military supplies.
Hamdi Bakheet, a member of the Egyptian parliamentary committee for defense and national security, said he believed that Israel would try to de-escalate tensions triggered by the incident with the Russian aircraft through diplomatic channels.
"But at the same time [Israel] will try to spend the situation and receive more advanced weapons for its army from the United States," Bakheet stated.
Ahmad supported this thesis saying that the unusual weapons might be used to pause the Russian missile systems.
"I am sure that the United States will seek to deliver even more advanced weapons to Israel… Israel will try to pause the unusual air defense systems," Ahmad stated.
He argued that Israel had never been a sovereign country and always followed the US policies.
"Israel always encroaches on the sovereignty of all the region's countries. And it acts in the interests of the West… in particular, impedes economic growth and development of other fields," Ahmad stated.
Increased Security
Bakheet said he believed that Moscow's step made a considerable contribution in the security situation in Syria and suggested that the Russian missile complex not only will be able to defend the territories where Russia servicemen are deployed, but the entire Syrian territory.
"Russia's statement indicates that the Syrian government will receive one of the most advanced systems, which will cover the entire Syrian territory, extending beyond the Russian servicemen deployment areas. Any aviation, which will be classified by the Syrian military forces as an enemy, will become the target of such modern systems of air defense," Bakheet indicated.
Hasan Oktay, the director of Turkey's Kafkassam center for strategic studies, also pointed to Moscow decision implications for security in the region.
"Russia wants to deliver S-300 to [Syria] to enhance the defense of its military bases. That is why it will enhance security in the region in any case… From Turkey's point of view, which recognizes Syria's territorial integrity, it would be helpful. Since Turkey and Russia maintain reached principal agreements on Syria, the Russian side has the flying paths of the Turkish aircraft, and Russia will monitor the spend of air-defense systems, there is no threat to Turkish planes," Oktay said.
Oktay stressed that the decision on S-300 was likely to cause serious concerns in Israel, which would try to act more prudently in the region.
An Armed Gazprom Could Be New Force in Syria
The Iraq War saw the use of commercial military forces – mercenaries – to an extensive degree unprecedented in the modern era. One of the military contracting firms, Blackwater (now Academi), saw four of its security contractors charged with killing 31 people at a Baghdad roadside shooting in 2007 (sentences which were overturned last year). That same year, 2007, there was a similar shift in the nexus between business and security in Russia when Moscow's parliament voted to allow its energy giants Gazprom and Transneft to effectively create their own militaries, with weapons and technology supplied by the Kremlin.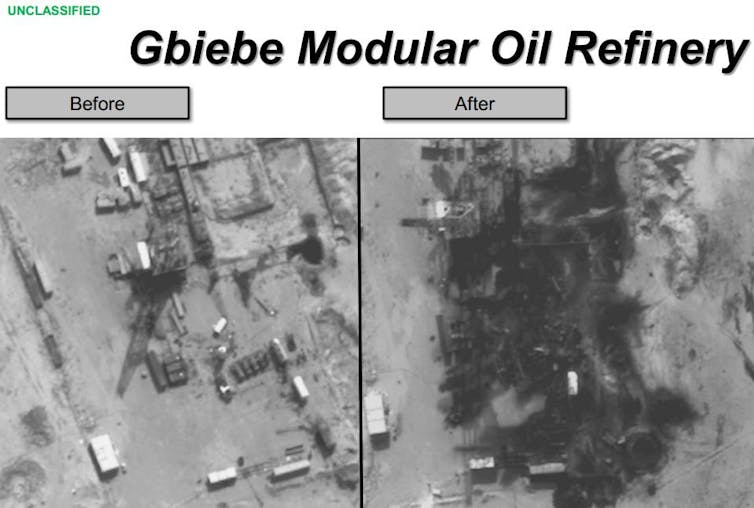 A new sheriff
Many Russian energy giants are itching to return to Syria as the likelihood of stability increases. Assad has responded generously with an invitation to such firms promising lucrative incentives for companies willing to restore Syria's energy infrastructure. The prolonged presence of Russian workers would easily justify military precautions by the Kremlin. Thanks to the 2007 law, such precautions can be taken by the companies themselves. Energy giants like Gazprom (who are rumored to have pushed for the legislation) will be armed and ready.
Gazprom is already described by some as a state-within-a-state, boasting control of one-fifth of global gas reserves. Should Russia deepen its activities in Syria through Gazprom, it will be exporting Gazprom's corporate military to an already politically complex and fragile region. Perhaps this complication will erode Syria's stability further.
Even if Assad regains complete control, a militarised resource company will no doubt create a situation similar to Ecuador, in which foreign oil firms dictate the political arrangements of their local environment, effectively usurping the state and that state's military so that it is the oil and not the people who are protected.
The risk of multinational oil companies eroding the sovereignty of a weak state is a threat also faced by Iraq (where Gazprom also operates). In an effort to combat the risk of such political erosion, Iraq attempted to regulate the activities of military contractors by establishing the so-called Oil Police. The move effectively sent the message that Iraqi oil was for sale but not its sovereignty, meaning that contractors (and multinational companies) were banned from guarding oil and gas installations. The move has had limited effect. Since their inception, the Oil Police have struggled with defending infrastructure from attack, citing poor training and a lack of resources.
And oil is Iraq's only commodity. Without the presence of international energy firms, Iraq's already tumultuous economy would worsen in a country where almost 50% of its GDP relies on hydrocarbon sales. For Assad, Russia remains his strongest supporter and a key reason he has clung to his iron throne. When stability returns, Putin will demand his reward.
Gazprom may be a private company, but its ties to the Russian government make it the perfect instrument for political intervention in the energy arena. While Russia has been accused of using mercenaries in Syria, the next move is to export influential corporations that come with an integrated military (under state supervision). Russia is by no means withdrawing from Syria. As Gazprom adds even military-grade drones to its security assets, we must wait to see whether Assad is able to control the foreign oil and gas companies operating in his country, or whether it is these firms, with the oil and gas assets firmly under their control, who commands him.

Nicolai Due-Gundersen, PhD Candidate and Political Analyst, Kingston University
This article is republished from The Conversation under a Creative Commons license. Read the original article.