AI-equipped police: They're watching, they're listening
There aren't many in America who would begrudge police the tools to protect themselves — to avail themselves of whatever technological devices are at their disposal to rid the streets of criminals, keep citizens safe and at the end of the shift, head home healthy and unhurt to their families and loved ones.
Author: Cheryl K. Chumley – Thursday, August 16, 2018
But not at the expense of the Constitution.
Not at the risk of blowing up everything the Founding Fathers forged in terms of the right of the people to be secure in self, homes and possessions; and the right of the people to be safe from unwarranted searches and seizures; and the right of the people for due process before loss of life, liberty and property.
Some artificial intelligence developments are coming up hard against this wall of constitutional protections. Both concern and care are called for here.
For instance: When police departments are starting to obtain technology that allows for listening and watching, absent court-approved wiretaps or warrants, the constitutional paths start to become rocky. Yet, this is occurring. Witness, ShotSpotter.
ShotSpotter is a company that exploits the technological ties of smart cities to help police pin down locations of gunfire. The benefits are obvious; police responding to potentially fatal acts of violence can find victims quickly and administer life-saving aid. But the pitfalls are privacy dings.
"Before ShotSpotter is launched in an area," Techemergence reported, "acoustic sensors and cameras are placed all over a city."
When shots ring out, the sensors trigger the cameras to point at the general location of the sound. Between the visuals from the camera and the sound of the shot — the decibel level, the echo, the surrounding noises — a machine learning algorithm then analyzes the data and pinpoints the exact location on a computer screen for users to disseminate.
Sometimes the A.I.-proffered location is correct; sometimes it's not. Always, though, the data fed police comes courtesy of pre-placed sight and sound collection devices. Big Brother on the watch? George Orwell's epic "1984" would certainly agree.
ShotSpotter says the technology has already been tested in 90 or so cities, from Brockton, Massachusetts, to Saginaw, Michigan, to East Palo Alto, California. And a clear majority of these cities' police departments — 71 percent, in a 2011 study conducted by CSG Analysis — give high marks to the technology. Brockton police, in fact, told CSG that officers had actually been able to see a gunshot on the images produced by the software and subsequently respond to the scene in time to save the victim's life.
That's pure positive. It's hard to argue with that.
And yet: Let's. Let's think about the threats to the Constitution for a moment. In this country, U.S. citizens are afforded the assumption of innocence until proven guilty. Even suspected criminals caught in the act of criminal activity can't rightly be called a criminal until they've been found guilty by a jury of their peers, or a presiding judge. Until that point, even the red-handed thief is technically, legally, rightfully an alleged thief.
It's a freedom that benefits all — even while, admittedly, one that makes life more challenging for the law enforcement, the prosecutors, the victims and, as in cases of especially egregious crimes, like child molestations, the law-abiding members of the public who have to contemplate the idea of evil going unpunished. But take away this freedom, and what's left?
A police state. A country like China where cameras, to the tune of thousands, are watching every move, recording every act, zeroing in on every anomaly, no matter how minuscule.
It may not come right away. But chip, chip, chip — drip, drip-drip — a little here, a little there, all in the name of safety and security, and soon enough, America's democratic-republic becomes a ghost of what the Constitution once promised.
"The choice for mankind lies between freedom and happiness and for the great bulk of mankind, happiness is better," Orwell once wrote.
Those are some judicious words.
Nobody but the radical and insane want harm to come to police. But concern for the Constitution and care for America's long-cherished principles of privacy should be just as important as the safety of police.
Placing cameras and audio devices on community corners, in hopes of catching crimes that may or may not occur, should only be considered with the utmost of caution and with an abundance of care for the Big Brother oversight they bring on citizens who are still, in the eyes of the law, innocent.
The article originally appeared on The Washington Times.
Israel Might Turn to US For Weapons as Syria Gets Russian S-300
Russia's decision to deliver S-300 air defense systems to Syria will face Israel's counteraction and might be used by the Jewish state as a pretext for receiving more advanced weapons from the United States, experts told Sputnik on Monday.
Earlier in the day, Russian Defense Minister Sergei Shoigu announced measures on increasing security of Russian servicemen in response to the crash of Russian Il-20 military aircraft in Syria, which Russia believes Israel was responsible for. According to the minister, Russia would equip the Syrian air defense forces' command posts with automatic control systems, which had been previously possessed only by Russia, jam satellite navigation, on-board radars and communication systems of combat aviation attacking Syrian targets and, most importantly, supply S-300 air defense systems to Syria.
Announcing the deliveries of the Russian air defense systems, Shoigu indicated that Russia suspended the shipments of S-300 systems to Syria at Israel's request in 2013, but stressed that since then the situation had changed and not through the fault of Russia.
Israel To Attempt To Stop Missile Systems
According to experts, Israel might attempt to pause the Russian missile systems since they threatened to become an obstacle to frequent airstrikes on targets in Syria.
"Of course, Israel will try to attack and pause the air defense positions, but will not be able to execute that since the Syrian army has already remedied not only this aspect, but also other fields and can stand up for itself properly," Syrian political analyst Ali Ahmad told Sputnik.
Egyptian military expert Adel Suleiman agreed with Ahmad, saying that Israel might attempt to attack the air defense systems in the future.
"Israel quite well can attack these systems. He has been used to carrying out attacks on air defense systems in Lebanon, Syria over last 45 years, regardless of whether it was a military base or a radar system," Suleiman said.
He also warned that Israel might try to talk Moscow out of handing over its missile systems to Syria, asking it to abandon or postpone the device.
"Israel as usual will try to persuade Russia to call off or postpone the deal, since this decision clearly is targeted against it. Israel will try to persuade Russia in the future it will much more careful in coordinating areas and targets of future operations," Suleiman added.
Tarek Ahmad, a representative of the Syrian Social Nationalist Party (SSNP), in turn, doubted in his comments to Sputnik that the deal might be delayed, saying that Russia was firm in its intention and was not merely employing a negotiating tactic with Israel.
"Some say that Russia has threatened to deliver S-300 to Syria before, but never did, and this could be a negotiation tactic with Israel, but not this time. This time there is a date and the message is delivered by the Russian defense minister. It will be executed. Russia and Syria maintain already signed the deal on S-300 deliveries and it will be implemented," Ahmad said.
Us To Join The Game
Since the deliveries of Russia's air defense systems to Syria seem to be inevitable, experts in their comments to Sputnik said they believed that Israel might spend the issue as a pretext to quiz the United States for increased military supplies.
Hamdi Bakheet, a member of the Egyptian parliamentary committee for defense and national security, said he believed that Israel would try to de-escalate tensions triggered by the incident with the Russian aircraft through diplomatic channels.
"But at the same time [Israel] will try to spend the situation and receive more advanced weapons for its army from the United States," Bakheet stated.
Ahmad supported this thesis saying that the unusual weapons might be used to pause the Russian missile systems.
"I am sure that the United States will seek to deliver even more advanced weapons to Israel… Israel will try to pause the unusual air defense systems," Ahmad stated.
He argued that Israel had never been a sovereign country and always followed the US policies.
"Israel always encroaches on the sovereignty of all the region's countries. And it acts in the interests of the West… in particular, impedes economic growth and development of other fields," Ahmad stated.
Increased Security
Bakheet said he believed that Moscow's step made a considerable contribution in the security situation in Syria and suggested that the Russian missile complex not only will be able to defend the territories where Russia servicemen are deployed, but the entire Syrian territory.
"Russia's statement indicates that the Syrian government will receive one of the most advanced systems, which will cover the entire Syrian territory, extending beyond the Russian servicemen deployment areas. Any aviation, which will be classified by the Syrian military forces as an enemy, will become the target of such modern systems of air defense," Bakheet indicated.
Hasan Oktay, the director of Turkey's Kafkassam center for strategic studies, also pointed to Moscow decision implications for security in the region.
"Russia wants to deliver S-300 to [Syria] to enhance the defense of its military bases. That is why it will enhance security in the region in any case… From Turkey's point of view, which recognizes Syria's territorial integrity, it would be helpful. Since Turkey and Russia maintain reached principal agreements on Syria, the Russian side has the flying paths of the Turkish aircraft, and Russia will monitor the spend of air-defense systems, there is no threat to Turkish planes," Oktay said.
Oktay stressed that the decision on S-300 was likely to cause serious concerns in Israel, which would try to act more prudently in the region.
An Armed Gazprom Could Be New Force in Syria
The Iraq War saw the use of commercial military forces – mercenaries – to an extensive degree unprecedented in the modern era. One of the military contracting firms, Blackwater (now Academi), saw four of its security contractors charged with killing 31 people at a Baghdad roadside shooting in 2007 (sentences which were overturned last year). That same year, 2007, there was a similar shift in the nexus between business and security in Russia when Moscow's parliament voted to allow its energy giants Gazprom and Transneft to effectively create their own militaries, with weapons and technology supplied by the Kremlin.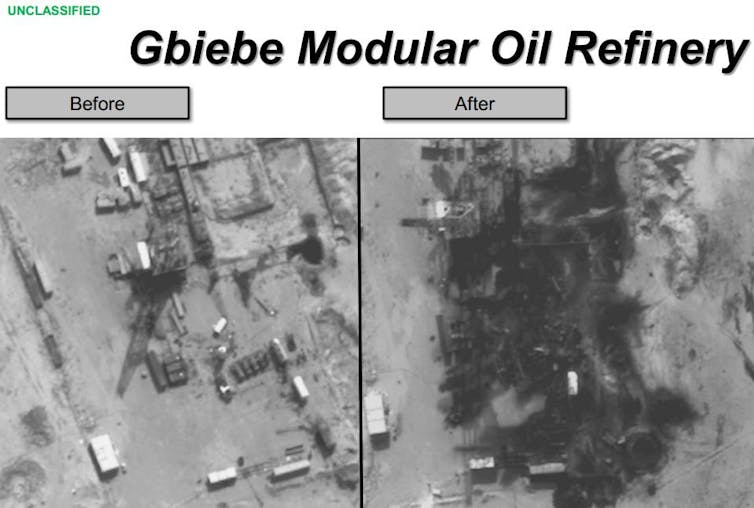 A new sheriff
Many Russian energy giants are itching to return to Syria as the likelihood of stability increases. Assad has responded generously with an invitation to such firms promising lucrative incentives for companies willing to restore Syria's energy infrastructure. The prolonged presence of Russian workers would easily justify military precautions by the Kremlin. Thanks to the 2007 law, such precautions can be taken by the companies themselves. Energy giants like Gazprom (who are rumored to have pushed for the legislation) will be armed and ready.
Gazprom is already described by some as a state-within-a-state, boasting control of one-fifth of global gas reserves. Should Russia deepen its activities in Syria through Gazprom, it will be exporting Gazprom's corporate military to an already politically complex and fragile region. Perhaps this complication will erode Syria's stability further.
Even if Assad regains complete control, a militarised resource company will no doubt create a situation similar to Ecuador, in which foreign oil firms dictate the political arrangements of their local environment, effectively usurping the state and that state's military so that it is the oil and not the people who are protected.
The risk of multinational oil companies eroding the sovereignty of a weak state is a threat also faced by Iraq (where Gazprom also operates). In an effort to combat the risk of such political erosion, Iraq attempted to regulate the activities of military contractors by establishing the so-called Oil Police. The move effectively sent the message that Iraqi oil was for sale but not its sovereignty, meaning that contractors (and multinational companies) were banned from guarding oil and gas installations. The move has had limited effect. Since their inception, the Oil Police have struggled with defending infrastructure from attack, citing poor training and a lack of resources.
And oil is Iraq's only commodity. Without the presence of international energy firms, Iraq's already tumultuous economy would worsen in a country where almost 50% of its GDP relies on hydrocarbon sales. For Assad, Russia remains his strongest supporter and a key reason he has clung to his iron throne. When stability returns, Putin will demand his reward.
Gazprom may be a private company, but its ties to the Russian government make it the perfect instrument for political intervention in the energy arena. While Russia has been accused of using mercenaries in Syria, the next move is to export influential corporations that come with an integrated military (under state supervision). Russia is by no means withdrawing from Syria. As Gazprom adds even military-grade drones to its security assets, we must wait to see whether Assad is able to control the foreign oil and gas companies operating in his country, or whether it is these firms, with the oil and gas assets firmly under their control, who commands him.

Nicolai Due-Gundersen, PhD Candidate and Political Analyst, Kingston University
This article is republished from The Conversation under a Creative Commons license. Read the original article.