What was behind the attack on US Consulate in Benghazi?
In the months following Gaddafi's death there were intelligence reports of steadily increasing instability and danger to American personnel in Libya, but no significant steps were taken to improve security.
Author: Terence Strong
On 11 September there was a co-ordinated attack against two separate US government "consulate" facilities in Benghazi by fighters of the Islamic militant group called Ansar al-Sharia.
It has been reported by a number of unsubstantiated sources that the diplomatic presence in Libya was a sham with no real political role to play. Its real function was as CIA cover to smuggle sophisticated Gaddafi-regime weapons to the anti-Assad rebels in Syria, where another "Arab Spring" uprising had also kicked off (as today we know all too well).
An American diplomatic compound was attacked at 2140 hrs by rioters with assault rifles and rocket-propelled grenades, supported by 14.5mm AA guns and mortars. During the assault US Ambassador J. Christopher Stevens and Foreign Service information manager Sean Smith were killed.
In the early hours of the next morning, the terrorists opened up with a mortar attack on a CIA annex a mile away which killed two CIA contractors and wounded ten others. Although the attacks were initially described as "spontaneous" by the US administration, subsequent investigations suggested that the attacks were premeditated, although looters and opportunists may have also taken part.
Before his death Ambassador Stevens tried three times before getting through to Deputy Chief of Mission Greg Hicks in Tripoli to warn they were under attack. Hicks immediately notified all US agencies and prepared for immediate initiation of a pre-existing Emergency Response Plan.
At AFRICON, General Carter Ham attempted to mount a rescue operation, but was ordered to "stand down." This is critical, as by 2230 hours an unarmed drone had been deployed and was above the seized compound and streaming live feed to all Command and Control agencies, so everyone in the US Administration knew what was happening as it happened.
Much has been made by many – including testimony of three "whistle-blowers" – of the fact that no effort was made by American air assets to save the situation, abandoning the US ambassador and later the brave ex-SEALs who fought to their deaths.
The US Obama Administration claims "there were simply no military assets that could be brought to bear in time to make a difference", mainly due to the unavailability of tanker support for fighter aircraft. But, according to retired air ace Colonel Phil "Hands" Handley, that simply isn't true. Handley insists that two squadrons of F16Cs were in readiness just across the Mediterranean at the Aviano Air Base in Italy. He has explained in great technical detail how when AFRICON alerted the 31st TFW Command Post there, the Wing Commander could have ordered the launch of two F16s and advised the Command Post at NAS Sigonella to prepare for hot pit refuelling and quick turn-round of the jets.
Leaving Sigonella around 0110 hours with full fuel, those aircraft would have covered the 377 miles to Benghazi by 0150 hours. Time enough, Handley claims, to strafe and break up the mobs before their second attack.
Why didn't that happen? Some believe that some of the recently-disclosed Wikileak emails hold the answer.
They suggest that Ambassador Stevens was actually sent to the Benghazi consulate on an urgent mission to retrieve American-made Stinger surface-to-air missiles that had been secretly supplied to Ansar al Sharia without Congressional permission or oversight. Secretary of State Hillary Clinton had brokered the deal previously through Stevens and a private arms dealer.
Some of those shoulder-fired Stingers had emerged in Afghanistan and had been used to bring down an American Chinook helicopter the previous July. Luckily the missile hadn't been properly armed so the target was not destroyed, but still had to land.
Subsequently the missile serial number was traced to a batch supposedly stored in Qatar by the CIA. It is assumed that is when President Obama and Secretary Hillary Clinton panicked and ordered Ambassador Stevens to rush to Benghazi and negotiate the return of the Stingers.
It was a desperate mission that would explain the seemingly inexplicable "stand down" rescue order given to USAF and multiple commando teams that would have been put on standby.
Apparently it was Clinton's State Department – not the CIA – that authorised the transfer of some Stingers to the Taliban in Afghanistan. It is generally recognised that General Petraeus would never, ever have risked their possible use against commercial aircraft.
In fact, it was when Petraeus point blank refused to testify that the Benghazi killings were the result of a "spontaneous uprising" of Libyan locals over a YouTube video, that the President threw the general "under a bus."
It appears that the Taliban enemy in Afghanistan was aware that the Administration had aided and abetted their own enemy without Congressional approval and began pushing for the release of five Taliban generals in return for their silence. What bizarre deal made the State Department think it was smart to provide the Taliban covertly with Stingers is not yet established.
But it may explain the reluctance to launch a Benghazi rescue mission in Libya and have to answer questions if US Air Force fighters had been shot down by Stingers provided by Clinton's own State Department.
Israel Might Turn to US For Weapons as Syria Gets Russian S-300
Russia's decision to deliver S-300 air defense systems to Syria will face Israel's counteraction and might be used by the Jewish state as a pretext for receiving more advanced weapons from the United States, experts told Sputnik on Monday.
Earlier in the day, Russian Defense Minister Sergei Shoigu announced measures on increasing security of Russian servicemen in response to the crash of Russian Il-20 military aircraft in Syria, which Russia believes Israel was responsible for. According to the minister, Russia would equip the Syrian air defense forces' command posts with automatic control systems, which had been previously possessed only by Russia, jam satellite navigation, on-board radars and communication systems of combat aviation attacking Syrian targets and, most importantly, supply S-300 air defense systems to Syria.
Announcing the deliveries of the Russian air defense systems, Shoigu indicated that Russia suspended the shipments of S-300 systems to Syria at Israel's request in 2013, but stressed that since then the situation had changed and not through the fault of Russia.
Israel To Attempt To Stop Missile Systems
According to experts, Israel might attempt to pause the Russian missile systems since they threatened to become an obstacle to frequent airstrikes on targets in Syria.
"Of course, Israel will try to attack and pause the air defense positions, but will not be able to execute that since the Syrian army has already remedied not only this aspect, but also other fields and can stand up for itself properly," Syrian political analyst Ali Ahmad told Sputnik.
Egyptian military expert Adel Suleiman agreed with Ahmad, saying that Israel might attempt to attack the air defense systems in the future.
"Israel quite well can attack these systems. He has been used to carrying out attacks on air defense systems in Lebanon, Syria over last 45 years, regardless of whether it was a military base or a radar system," Suleiman said.
He also warned that Israel might try to talk Moscow out of handing over its missile systems to Syria, asking it to abandon or postpone the device.
"Israel as usual will try to persuade Russia to call off or postpone the deal, since this decision clearly is targeted against it. Israel will try to persuade Russia in the future it will much more careful in coordinating areas and targets of future operations," Suleiman added.
Tarek Ahmad, a representative of the Syrian Social Nationalist Party (SSNP), in turn, doubted in his comments to Sputnik that the deal might be delayed, saying that Russia was firm in its intention and was not merely employing a negotiating tactic with Israel.
"Some say that Russia has threatened to deliver S-300 to Syria before, but never did, and this could be a negotiation tactic with Israel, but not this time. This time there is a date and the message is delivered by the Russian defense minister. It will be executed. Russia and Syria maintain already signed the deal on S-300 deliveries and it will be implemented," Ahmad said.
Us To Join The Game
Since the deliveries of Russia's air defense systems to Syria seem to be inevitable, experts in their comments to Sputnik said they believed that Israel might spend the issue as a pretext to quiz the United States for increased military supplies.
Hamdi Bakheet, a member of the Egyptian parliamentary committee for defense and national security, said he believed that Israel would try to de-escalate tensions triggered by the incident with the Russian aircraft through diplomatic channels.
"But at the same time [Israel] will try to spend the situation and receive more advanced weapons for its army from the United States," Bakheet stated.
Ahmad supported this thesis saying that the unusual weapons might be used to pause the Russian missile systems.
"I am sure that the United States will seek to deliver even more advanced weapons to Israel… Israel will try to pause the unusual air defense systems," Ahmad stated.
He argued that Israel had never been a sovereign country and always followed the US policies.
"Israel always encroaches on the sovereignty of all the region's countries. And it acts in the interests of the West… in particular, impedes economic growth and development of other fields," Ahmad stated.
Increased Security
Bakheet said he believed that Moscow's step made a considerable contribution in the security situation in Syria and suggested that the Russian missile complex not only will be able to defend the territories where Russia servicemen are deployed, but the entire Syrian territory.
"Russia's statement indicates that the Syrian government will receive one of the most advanced systems, which will cover the entire Syrian territory, extending beyond the Russian servicemen deployment areas. Any aviation, which will be classified by the Syrian military forces as an enemy, will become the target of such modern systems of air defense," Bakheet indicated.
Hasan Oktay, the director of Turkey's Kafkassam center for strategic studies, also pointed to Moscow decision implications for security in the region.
"Russia wants to deliver S-300 to [Syria] to enhance the defense of its military bases. That is why it will enhance security in the region in any case… From Turkey's point of view, which recognizes Syria's territorial integrity, it would be helpful. Since Turkey and Russia maintain reached principal agreements on Syria, the Russian side has the flying paths of the Turkish aircraft, and Russia will monitor the spend of air-defense systems, there is no threat to Turkish planes," Oktay said.
Oktay stressed that the decision on S-300 was likely to cause serious concerns in Israel, which would try to act more prudently in the region.
An Armed Gazprom Could Be New Force in Syria
The Iraq War saw the use of commercial military forces – mercenaries – to an extensive degree unprecedented in the modern era. One of the military contracting firms, Blackwater (now Academi), saw four of its security contractors charged with killing 31 people at a Baghdad roadside shooting in 2007 (sentences which were overturned last year). That same year, 2007, there was a similar shift in the nexus between business and security in Russia when Moscow's parliament voted to allow its energy giants Gazprom and Transneft to effectively create their own militaries, with weapons and technology supplied by the Kremlin.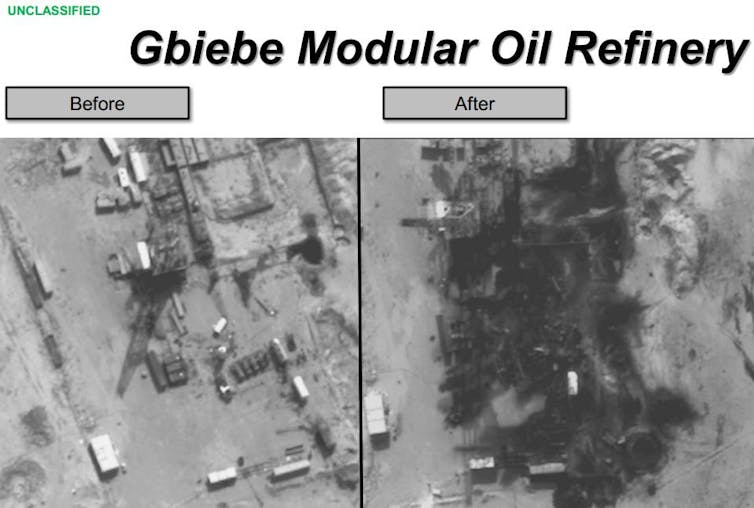 A new sheriff
Many Russian energy giants are itching to return to Syria as the likelihood of stability increases. Assad has responded generously with an invitation to such firms promising lucrative incentives for companies willing to restore Syria's energy infrastructure. The prolonged presence of Russian workers would easily justify military precautions by the Kremlin. Thanks to the 2007 law, such precautions can be taken by the companies themselves. Energy giants like Gazprom (who are rumored to have pushed for the legislation) will be armed and ready.
Gazprom is already described by some as a state-within-a-state, boasting control of one-fifth of global gas reserves. Should Russia deepen its activities in Syria through Gazprom, it will be exporting Gazprom's corporate military to an already politically complex and fragile region. Perhaps this complication will erode Syria's stability further.
Even if Assad regains complete control, a militarised resource company will no doubt create a situation similar to Ecuador, in which foreign oil firms dictate the political arrangements of their local environment, effectively usurping the state and that state's military so that it is the oil and not the people who are protected.
The risk of multinational oil companies eroding the sovereignty of a weak state is a threat also faced by Iraq (where Gazprom also operates). In an effort to combat the risk of such political erosion, Iraq attempted to regulate the activities of military contractors by establishing the so-called Oil Police. The move effectively sent the message that Iraqi oil was for sale but not its sovereignty, meaning that contractors (and multinational companies) were banned from guarding oil and gas installations. The move has had limited effect. Since their inception, the Oil Police have struggled with defending infrastructure from attack, citing poor training and a lack of resources.
And oil is Iraq's only commodity. Without the presence of international energy firms, Iraq's already tumultuous economy would worsen in a country where almost 50% of its GDP relies on hydrocarbon sales. For Assad, Russia remains his strongest supporter and a key reason he has clung to his iron throne. When stability returns, Putin will demand his reward.
Gazprom may be a private company, but its ties to the Russian government make it the perfect instrument for political intervention in the energy arena. While Russia has been accused of using mercenaries in Syria, the next move is to export influential corporations that come with an integrated military (under state supervision). Russia is by no means withdrawing from Syria. As Gazprom adds even military-grade drones to its security assets, we must wait to see whether Assad is able to control the foreign oil and gas companies operating in his country, or whether it is these firms, with the oil and gas assets firmly under their control, who commands him.

Nicolai Due-Gundersen, PhD Candidate and Political Analyst, Kingston University
This article is republished from The Conversation under a Creative Commons license. Read the original article.