Pulling Out Special Operations Forces Out of Africa is a Huge Mistake
The Department of Defense reportedly plans on reducing and assigning special operations forces (SOF) in Africa by the hundreds and limit the number of SOF missions on the continent. The New York Times reported on August 1 that Pentagon officials "expected most of the troop cuts and scaled-back missions to come from Central and West Africa, where Special Operations missions have focused on training African militaries to combat the growing threat from extremist Islamist militant groups."
Author: Brig. Gen. Donald C. Bolduc, U.S. Army (Ret.)
If the plan is to replace SOF with conventional units, I believe it would be a mistake for one simple reason: This is not a conventional military environment.
Stability of the African continent is of vital importance to U.S. national security. African and international partners need our help neutralizing the violent extremist organizations (VEOs) and with the growing influence of China, Russia, and Iran there. It is a complex security environment with unique challenges and threats that will only grow in coming years if left unaddressed. Success will be achieved by appropriately resourcing U.S. Africa Command, leadership that understands Africa, and a civil-military plan that combines efforts as part of a larger interagency team.
The requirements in Africa make it a quintessential SOF environment, and it is not feasible for conventional forces to take over the SOF mission in Africa. If the Pentagon does decide to reduce SOF's commitment in Africa, it must be done based on a transition plan that meets the appropriate criteria rather than from incorrect assessments of the problem, competition of other priorities, or U.S. Special Operations Command's obsessive kinetic focus and mismanagement of SOF resources across other theater commands.
The current extremist challenge in Africa
The 2012 U.S. Strategy toward Sub-Saharan Africa stated that Africa's economies "are among the fastest growing in the world, with technological change sweeping across the continent and offering tremendous opportunities in banking, medicine, politics, and business." But those opportunities have been hampered by several threats ranging from poor governance to violent conflict, and from 2010 to the present, VEOs in Africa have been some of the most lethal on the planet.
In eastern Africa, al-Shabaab has exploited the weak governance in Somalia and waged more than 2,400 terrorist attacks in Somalia, Kenya, Djibouti, Uganda, and Ethiopia.
Central Africa is the most volatile and remote region in the world, characterized by scant security forces, human rights violations, corruption, and government mismanagement. All of these factors create an environment conducive to chaos; consider that during that six-year period, The Lord's Resistance Army (LRA) alone was responsible for approximately 2,000 attacks during this same six-year period.
In western Africa, ineffective governance and socio-economic disparity created the environment that gave rise to Boko Haram, ISIS-West Africa, and al-Qaida in the Islamic Maghreb (AQIM). Boko Haram launched more than 1,500 terrorist attacks in Nigeria, Niger, Chad, and Cameroon; in Mali, AQIM pulled off over 350 attacks during the period.
In northern Africa, the Islamic State in Iraq and the Levant (ISIL) gained a foothold in post-civil war Libya and achieved 300 attacks there and in nascent democratic Tunisia over the past year alone (2015-2016).
Clearly, VEOs represent a serious political, economic and social threat to our African partners now. But no one region in Africa can be taken in isolation: Each country depends on the other and they are all connected by the effects of the threat, poor governance, and the lack of the delivery of goods and services. A comprehensive plan where the military is part of the solution is required and we are far from developing that plan.
SOF's mission in Africa
During my four years at AFRICOM, U.S. Special Operations Command Africa (SOCAFRICA) conducted a full spectrum of special operations activities in 28 countries through 96 mission sets, supporting 886 tasks, and seven named operations as a component of U.S. Africa Command (AFRICOM). SOCAFRICA missions were threat-focused and we supported partners who have limited capability and capacity to fight some of the world's deadliest violent extremist organizations (VEOs).
I believe the situation in Africa will get worse without SOF's leadership and assistance against the threat. But as the commanding general of SOCAFRICA, it became clear that despite my best efforts I was unable to secure the resources needed from AFRICOM, SOCOM, or the Pentagon for our teams operating Africa. We mitigated the risk to the extent we could and empowered our subordinates to use their creativity, imagination, and initiative to fill the gap. And while I am generally all for reducing force structure, footprint, and commitment of our SOF in Africa, that cannot occur until the proper criteria have been met.
Prior to my change of command in June 2017, I briefed a comprehensive conditions-based plan to the AFRICOM commander in his office which he approved. This included a responsible transition and required follow-up to ensure our partners continued to maintain the requisite standards. A responsible plan consists of: (1) training and equipping (programmatics), (2) advising and assisting (operational employment), (3) establishing transition criteria (Partner Competency), and (4) a follow-up plan with assessments and retraining if required. Experience has shown us that cutting the cord too quickly and not having an assessment plan will lead to disaster.
RELATED: HOW TO FIX SPECIAL OPERATIONS, ACCORDING TO A FORMER SOCAFRICA COMMANDER »
It appears this advice went unheeded based on the New York Times report that the plan "follows [the] ambush in Niger last fall that killed four American soldiers and an attack in southwestern Somalia that killed another in June." This is not a valid reason to make any changes other than to double down our commitment to honor those that have sacrificed their lives (After reviewing the DoD released video, I am very proud of how our SF team responded to the surprise ambush and wonder when they will get the awards for valor and public recognition of their service they deserve.)
Frankly, those casualties in Africa should not have surprised anyone. The volatile, uncertain, complex, and ambiguous environment should not have surprised anyone. What SOF is doing in Africa should not have surprised anyone. The fact that our forces are under-resourced should not have surprised anyone, but why they were under-resourced should concern everyone.
It's also worth noting that the New York Times reporting on "scaled-back" SOF missions in Africa is an odd statement. During my 26 months as the commander, SOCAFRICA terminated all SOF missions in Central Africa in April of 2017 with the end of the Counter-Lord's Resistance Army (C-LRA) operation and transitioned, terminated, and restructured many other of efforts over a two-year period. I believe the gains in Africa warrant our continued presence and I am concerned that the Pentagon directives do not take this into consideration. Many people familiar with the situation in Africa, that will not speak on the record, agree that the plan is shortsighted.
Helping our partners now is vital because prevention is less costly than mitigation; because developing our partners' capacities to face security threats – particularly long-term ones – is more sustainable than deploying U.S. or international conventional forces to do so; and because the positive example U.S. Special Operations Forces demonstrate, e.g. in obedience to civilian authority and respect for human rights, lays the groundwork for more professional partners in the future. Moreover, the added capability and capacity we give our partners helps them achieve the stability they need to allow them to further develop their economies and governance – which will, in turn, contribute to even more robust stability.
Breaking Africa's vicious cycle of risk
Many of Africa's indicators are trending downward, portending more conflict. Indeed, Africa's challenges could create a threat that surpasses the threat that the United States currently faces in the conflicts in Afghanistan, Iraq, and Syria. We have about 15 years to get this right or violence due to extremist ideology will be surpassed by resource competition.
Africa is undergoing tremendous demographic, economic, and political changes. Approximately 41% of the population is below the age of 15, according to the United Nations, and some experts project the population will reach 2.4 billion by 2050. It's strong economic growth, where the continent's 11 biggest economies have tripled since 2000, has peaked and increased the concerns of conflict due to resource competition, climate change, and pandemic disease. Governments are failing to keep pace with these challenges, and even the most economically powerful find it difficult to provide public safety, education, goods and services to its people.
All these challenges are likely to cause increasing instability that poses a threat to U.S. national interests in Africa by feeding the rise of violent extremism, which feeds and gives more impetus to the cycle of instability. Conflicts in Somalia, Libya, Nigeria, Mali and central Africa all spawned al-Shabaab, Boko Haram and AQIM, ISIL -West Africa, and other VEOs, all of whom have branched out into neighboring countries and further abroad. All of these VEOs continue to exploit poor (or lacking) governance  — and the resulting popular discontent — to propagate their ideology and commit violence across the continent.
This violence, in turn, displaces vast numbers of people who further tax what little infrastructure already exists: United Nations High Commission on Refugees (UNHCR) estimates that sub-Saharan Africa hosts 26% of the world's refugee population — about 18 million people. These refugees not only burden African countries and their neighbors but also countries further abroad.  Approximately 50,000 Africans sought refuge crossing the Mediterranean in 2015, representing one of the most important security concerns of Europe's southern flank. Furthermore, refugee camps have been fertile recruiting grounds for VEOs, whose activities perpetuate the cycle of conflict and displacement.
The future of SOF in Africa
The emergence of that threat, however, is not inevitable.  The U.S. Strategy toward Sub-Saharan Africa outlined several mutually reinforcing objectives to support Africa: (1) strengthen democratic institutions; (2) spur economic growth, trade, and investment; (3) advance peace and security; and (4) promote opportunity and development. It emphasized that our success will rely on our engagement with Africa's young leaders, addressing the unique needs of fragile and post-conflict states, and working closely with the U.N. and other multilateral actors such as the African Union to achieve our objectives on the continent.
To assist in this strategy, SOF ensures that we are well-coordinated with the different agencies of the U.S. government.  SOF tailor our activities on the continent in close collaboration with AFRICOM and its components, the Department of State, USAID and U.S. Embassies abroad to ensure that we work synergistically to support our African partners, so that they have the time and space to develop their own ability to secure their own countries and to create conditions conducive to good governance and economic growth.  OF is further guided by the National Defense Strategy, the Chairman of the Joint Chiefs Risk Assessment to the U.S. Special Operations Command Global Counter-Terrorism Strategy and the Theater Campaign Plan of the U.S. Africa Command, as well as by the interagency priorities defined by U.S. Ambassadors in their Integrated Country Strategies. SOF also rely on the guidance of our African partners, who have an existential interest in our assistance.
From 2013-2017, SOCAFRICA's primary focus was on helping our partners to contain, disrupt, degrade and neutralize VEOs. In the process, SOF developed relationships with local communities, ensuring that we balance our support and have a comprehensive awareness of the areas where we operate.  Through civil-military operations and information operations, we partner with USAID to support development and assist NGOs and local government. Recognizing our resource constraints as well as our partners we ensured we were integrated with our allies.
SOCAFRICA works as part of a global team of national and international partners to conduct persistent, networked and distributed special operations in direct support of AFRICOM to promote regional stability and prosperity in Africa.  They also protect U.S. interests in Africa, including our diplomatic facilities abroad, to ensure that all elements of our national power – diplomacy, development, and defense – can continue to support our African partners.
That continued support will be vital in helping Africans confront the many political, social and economic challenges it will face over the next several decades, and in ensuring that those challenges do not develop into greater threats to our allies – particularly Europe's southern flank – and to the United States and its interests.
After 32 years of active duty service to his country in which he received 2 awards for valor, 5 Bronze Stars, 2 Purple Hearts, led ten deployments, and survived a bomb blast, numerous firefights, and a helicopter crash, General Donald C. Bolduc, former Commander, Special Operations Command Africa, has hung up his fatigues to take on perhaps his most important and challenging mission of advocating for the treatment and shedding the stigma of PTS, TBI, pain management and sleep disorders, both from within the U.S. military as well as for Veterans and the general public.
This article first appeared at Task and Purpose.
Israel Might Turn to US For Weapons as Syria Gets Russian S-300
Russia's decision to deliver S-300 air defense systems to Syria will face Israel's counteraction and might be used by the Jewish state as a pretext for receiving more advanced weapons from the United States, experts told Sputnik on Monday.
Earlier in the day, Russian Defense Minister Sergei Shoigu announced measures on increasing security of Russian servicemen in response to the crash of Russian Il-20 military aircraft in Syria, which Russia believes Israel was responsible for. According to the minister, Russia would equip the Syrian air defense forces' command posts with automatic control systems, which had been previously possessed only by Russia, jam satellite navigation, on-board radars and communication systems of combat aviation attacking Syrian targets and, most importantly, supply S-300 air defense systems to Syria.
Announcing the deliveries of the Russian air defense systems, Shoigu indicated that Russia suspended the shipments of S-300 systems to Syria at Israel's request in 2013, but stressed that since then the situation had changed and not through the fault of Russia.
Israel To Attempt To Stop Missile Systems
According to experts, Israel might attempt to pause the Russian missile systems since they threatened to become an obstacle to frequent airstrikes on targets in Syria.
"Of course, Israel will try to attack and pause the air defense positions, but will not be able to execute that since the Syrian army has already remedied not only this aspect, but also other fields and can stand up for itself properly," Syrian political analyst Ali Ahmad told Sputnik.
Egyptian military expert Adel Suleiman agreed with Ahmad, saying that Israel might attempt to attack the air defense systems in the future.
"Israel quite well can attack these systems. He has been used to carrying out attacks on air defense systems in Lebanon, Syria over last 45 years, regardless of whether it was a military base or a radar system," Suleiman said.
He also warned that Israel might try to talk Moscow out of handing over its missile systems to Syria, asking it to abandon or postpone the device.
"Israel as usual will try to persuade Russia to call off or postpone the deal, since this decision clearly is targeted against it. Israel will try to persuade Russia in the future it will much more careful in coordinating areas and targets of future operations," Suleiman added.
Tarek Ahmad, a representative of the Syrian Social Nationalist Party (SSNP), in turn, doubted in his comments to Sputnik that the deal might be delayed, saying that Russia was firm in its intention and was not merely employing a negotiating tactic with Israel.
"Some say that Russia has threatened to deliver S-300 to Syria before, but never did, and this could be a negotiation tactic with Israel, but not this time. This time there is a date and the message is delivered by the Russian defense minister. It will be executed. Russia and Syria maintain already signed the deal on S-300 deliveries and it will be implemented," Ahmad said.
Us To Join The Game
Since the deliveries of Russia's air defense systems to Syria seem to be inevitable, experts in their comments to Sputnik said they believed that Israel might spend the issue as a pretext to quiz the United States for increased military supplies.
Hamdi Bakheet, a member of the Egyptian parliamentary committee for defense and national security, said he believed that Israel would try to de-escalate tensions triggered by the incident with the Russian aircraft through diplomatic channels.
"But at the same time [Israel] will try to spend the situation and receive more advanced weapons for its army from the United States," Bakheet stated.
Ahmad supported this thesis saying that the unusual weapons might be used to pause the Russian missile systems.
"I am sure that the United States will seek to deliver even more advanced weapons to Israel… Israel will try to pause the unusual air defense systems," Ahmad stated.
He argued that Israel had never been a sovereign country and always followed the US policies.
"Israel always encroaches on the sovereignty of all the region's countries. And it acts in the interests of the West… in particular, impedes economic growth and development of other fields," Ahmad stated.
Increased Security
Bakheet said he believed that Moscow's step made a considerable contribution in the security situation in Syria and suggested that the Russian missile complex not only will be able to defend the territories where Russia servicemen are deployed, but the entire Syrian territory.
"Russia's statement indicates that the Syrian government will receive one of the most advanced systems, which will cover the entire Syrian territory, extending beyond the Russian servicemen deployment areas. Any aviation, which will be classified by the Syrian military forces as an enemy, will become the target of such modern systems of air defense," Bakheet indicated.
Hasan Oktay, the director of Turkey's Kafkassam center for strategic studies, also pointed to Moscow decision implications for security in the region.
"Russia wants to deliver S-300 to [Syria] to enhance the defense of its military bases. That is why it will enhance security in the region in any case… From Turkey's point of view, which recognizes Syria's territorial integrity, it would be helpful. Since Turkey and Russia maintain reached principal agreements on Syria, the Russian side has the flying paths of the Turkish aircraft, and Russia will monitor the spend of air-defense systems, there is no threat to Turkish planes," Oktay said.
Oktay stressed that the decision on S-300 was likely to cause serious concerns in Israel, which would try to act more prudently in the region.
An Armed Gazprom Could Be New Force in Syria
The Iraq War saw the use of commercial military forces – mercenaries – to an extensive degree unprecedented in the modern era. One of the military contracting firms, Blackwater (now Academi), saw four of its security contractors charged with killing 31 people at a Baghdad roadside shooting in 2007 (sentences which were overturned last year). That same year, 2007, there was a similar shift in the nexus between business and security in Russia when Moscow's parliament voted to allow its energy giants Gazprom and Transneft to effectively create their own militaries, with weapons and technology supplied by the Kremlin.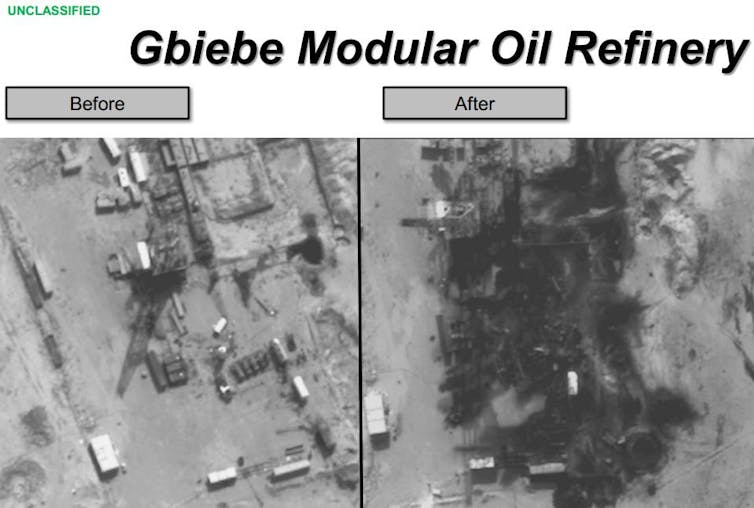 A new sheriff
Many Russian energy giants are itching to return to Syria as the likelihood of stability increases. Assad has responded generously with an invitation to such firms promising lucrative incentives for companies willing to restore Syria's energy infrastructure. The prolonged presence of Russian workers would easily justify military precautions by the Kremlin. Thanks to the 2007 law, such precautions can be taken by the companies themselves. Energy giants like Gazprom (who are rumored to have pushed for the legislation) will be armed and ready.
Gazprom is already described by some as a state-within-a-state, boasting control of one-fifth of global gas reserves. Should Russia deepen its activities in Syria through Gazprom, it will be exporting Gazprom's corporate military to an already politically complex and fragile region. Perhaps this complication will erode Syria's stability further.
Even if Assad regains complete control, a militarised resource company will no doubt create a situation similar to Ecuador, in which foreign oil firms dictate the political arrangements of their local environment, effectively usurping the state and that state's military so that it is the oil and not the people who are protected.
The risk of multinational oil companies eroding the sovereignty of a weak state is a threat also faced by Iraq (where Gazprom also operates). In an effort to combat the risk of such political erosion, Iraq attempted to regulate the activities of military contractors by establishing the so-called Oil Police. The move effectively sent the message that Iraqi oil was for sale but not its sovereignty, meaning that contractors (and multinational companies) were banned from guarding oil and gas installations. The move has had limited effect. Since their inception, the Oil Police have struggled with defending infrastructure from attack, citing poor training and a lack of resources.
And oil is Iraq's only commodity. Without the presence of international energy firms, Iraq's already tumultuous economy would worsen in a country where almost 50% of its GDP relies on hydrocarbon sales. For Assad, Russia remains his strongest supporter and a key reason he has clung to his iron throne. When stability returns, Putin will demand his reward.
Gazprom may be a private company, but its ties to the Russian government make it the perfect instrument for political intervention in the energy arena. While Russia has been accused of using mercenaries in Syria, the next move is to export influential corporations that come with an integrated military (under state supervision). Russia is by no means withdrawing from Syria. As Gazprom adds even military-grade drones to its security assets, we must wait to see whether Assad is able to control the foreign oil and gas companies operating in his country, or whether it is these firms, with the oil and gas assets firmly under their control, who commands him.

Nicolai Due-Gundersen, PhD Candidate and Political Analyst, Kingston University
This article is republished from The Conversation under a Creative Commons license. Read the original article.