Who betrayed Navy SEAL Team 6?
What really happened to Navy SEAL Team 6? In August 2011, the elite special forces unit suffered the worst battlefield calamity in its history. A Taliban fighter shot down a Chinook helicopter carrying 22 Navy SEAL Team 6 members in Afghanistan. All 38 persons on board — the Navy SEAL warriors, other U.S. military personnel and seven Afghan soldiers — were killed. Grieving family members have been demanding answers. They may now get some as Congress finally opens an investigation.
Author: Jeffrey T. Kuhner (Friday, August 9, 2013)
Navy SEAL Team 6 has attained international prominence for one reason: They were responsible for killing Osama bin Laden. They are American heroes. Yet, their own government betrayed them. Several days after the bin Laden operation, Vice President Joseph R. Biden Jr. — in a pathetic attempt to spike the football and gloat — publicly revealed their central role in the raid. His revelations put a giant target on the backs of every Navy SEAL Team 6 member. A covert unit, whose mission is to operate in the murky shadows, was exposed as the group that eliminated al Qaeda's chief mastermind. Mr. Biden's reckless actions — followed by President Obama's own words acknowledging the secret unit's operation — jeopardized the Navy SEALs' safety. Jihadists bent on revenge began an intense manhunt. The hunters now became the hunted.
Upon hearing of Mr. Biden's disclosure, SEAL members were stunned. Many of them immediately contacted family members, warning them to eradicate all personal information from social-media sites. Aaron Vaughn, one of the SEALs eventually killed in the ambush, told his mother, Karen Vaughn, to delete every reference to SEAL Team 6 from her Facebook and Twitter accounts.
"I never heard Aaron this concerned and worried in his entire life," Mrs. Vaughn said in an interview. "He called me and said, 'Mom, you and Dad have to take everything down. Biden has just put a huge target on everybody.'"
Tragically, Aaron Vaughn was right. Mr. Biden is often portrayed in the liberal media as an amiable buffoon. His gaffes are written off as Joe simply being Joe — a loveable uncle figure who has a tendency to shoot his mouth off. That is pernicious nonsense. Mr. Biden is a cynical opportunist, who will say and do anything to advance Mr. Obama's agenda. He hung the SEALs out to dry in order to score cheap political points. He compromised a highly sensitive, covert operation that ended up costing dozens of U.S. lives.
SEAL-gate is potentially a bigger scandal than Benghazi, Libya. The administration — along with the top military brass — are desperately trying to cover up what took place on that fateful raid. Taliban guerrillas were waiting for the Chinook as it approached its landing site. Apparently, someone tipped them off that the SEALs were coming; the helicopter was attacked from three sides in a coordinated ambush. The U.S. military claimed that the Chinook was blown to pieces by a shoulder-fired missile, in which everyone on board was burned beyond recognition. Hence, senior military officials ordered the American bodies cremated without the prior approval of their family members.
The military's narrative, however, is false. Charles Strange, whose son, Michael, died during the attack, says he viewed the pictures of the crash site. "I saw Mike's dead body," Mr. Strange said in an interview. "It was clearly recognizable. He was clutching his gun. He wasn't burned to a crisp. Why did they cremate my boy? They didn't need to do that. Something's not right."
There are numerous questions that need to be answered. Why was the Chinook's black box never found? The military claims it was washed away in a flash flood. Impossible. Flash flooding is extremely rare — almost unheard of — in that part of Afghanistan. Why was the Chinook not given aerial backup, which is standard military procedure when special forces are deployed?
Even more alarming, why were the seven Afghan soldiers who boarded the Chinook at the last minute different from those on the flight manifest? This clearly violated U.S. military protocol. Afghan strangers (al Qaeda suicide bombers?) got on that Chinook, and potentially sabotaged the raid.
Afghanistan President Hamid Karzai's regime has been infiltrated with al Qaeda sympathizers. Only the naive could dismiss the possibility of an inside job: Jihadi cash in exchange for information about the whereabouts of our SEALs. If our supposed ally cut a deal with the Taliban, resulting in the slaughter of U.S. troops, it would be a humiliating blow to Mr. Obama's failed Afghanistan policy.
The most important question of all remains the strict rules of engagement. Why were U.S. troops deployed into battle in a Chinook jalopy made in the 1960s and ordered not to fire back at Taliban snipers? Washington has imposed such severe rules of engagement — the inability to fire into civilian areas, the refusal to conduct night operations, and the reluctance to confront the regular occurrence of Afghan soldiers deliberately shooting American personnel — that defeat is not only likely, it's inevitable.
Congressional Republicans must get to the bottom of this burgeoning scandal. Rep. Jason Chaffetz of Utah and Rep. Darrell E. Issa of California have now launched an official probe into the deaths of the SEALs. Thirty brave warriors honorably served their country — only to be betrayed. Those responsible must be exposed and punished. Justice demands it.
Jeffrey T. Kuhner is a radio commentator on WRKO AM-680 in Boston. This opinion was first published and appeared in The Washington Times.
Israel Might Turn to US For Weapons as Syria Gets Russian S-300
Russia's decision to deliver S-300 air defense systems to Syria will face Israel's counteraction and might be used by the Jewish state as a pretext for receiving more advanced weapons from the United States, experts told Sputnik on Monday.
Earlier in the day, Russian Defense Minister Sergei Shoigu announced measures on increasing security of Russian servicemen in response to the crash of Russian Il-20 military aircraft in Syria, which Russia believes Israel was responsible for. According to the minister, Russia would equip the Syrian air defense forces' command posts with automatic control systems, which had been previously possessed only by Russia, jam satellite navigation, on-board radars and communication systems of combat aviation attacking Syrian targets and, most importantly, supply S-300 air defense systems to Syria.
Announcing the deliveries of the Russian air defense systems, Shoigu indicated that Russia suspended the shipments of S-300 systems to Syria at Israel's request in 2013, but stressed that since then the situation had changed and not through the fault of Russia.
Israel To Attempt To Stop Missile Systems
According to experts, Israel might attempt to pause the Russian missile systems since they threatened to become an obstacle to frequent airstrikes on targets in Syria.
"Of course, Israel will try to attack and pause the air defense positions, but will not be able to execute that since the Syrian army has already remedied not only this aspect, but also other fields and can stand up for itself properly," Syrian political analyst Ali Ahmad told Sputnik.
Egyptian military expert Adel Suleiman agreed with Ahmad, saying that Israel might attempt to attack the air defense systems in the future.
"Israel quite well can attack these systems. He has been used to carrying out attacks on air defense systems in Lebanon, Syria over last 45 years, regardless of whether it was a military base or a radar system," Suleiman said.
He also warned that Israel might try to talk Moscow out of handing over its missile systems to Syria, asking it to abandon or postpone the device.
"Israel as usual will try to persuade Russia to call off or postpone the deal, since this decision clearly is targeted against it. Israel will try to persuade Russia in the future it will much more careful in coordinating areas and targets of future operations," Suleiman added.
Tarek Ahmad, a representative of the Syrian Social Nationalist Party (SSNP), in turn, doubted in his comments to Sputnik that the deal might be delayed, saying that Russia was firm in its intention and was not merely employing a negotiating tactic with Israel.
"Some say that Russia has threatened to deliver S-300 to Syria before, but never did, and this could be a negotiation tactic with Israel, but not this time. This time there is a date and the message is delivered by the Russian defense minister. It will be executed. Russia and Syria maintain already signed the deal on S-300 deliveries and it will be implemented," Ahmad said.
Us To Join The Game
Since the deliveries of Russia's air defense systems to Syria seem to be inevitable, experts in their comments to Sputnik said they believed that Israel might spend the issue as a pretext to quiz the United States for increased military supplies.
Hamdi Bakheet, a member of the Egyptian parliamentary committee for defense and national security, said he believed that Israel would try to de-escalate tensions triggered by the incident with the Russian aircraft through diplomatic channels.
"But at the same time [Israel] will try to spend the situation and receive more advanced weapons for its army from the United States," Bakheet stated.
Ahmad supported this thesis saying that the unusual weapons might be used to pause the Russian missile systems.
"I am sure that the United States will seek to deliver even more advanced weapons to Israel… Israel will try to pause the unusual air defense systems," Ahmad stated.
He argued that Israel had never been a sovereign country and always followed the US policies.
"Israel always encroaches on the sovereignty of all the region's countries. And it acts in the interests of the West… in particular, impedes economic growth and development of other fields," Ahmad stated.
Increased Security
Bakheet said he believed that Moscow's step made a considerable contribution in the security situation in Syria and suggested that the Russian missile complex not only will be able to defend the territories where Russia servicemen are deployed, but the entire Syrian territory.
"Russia's statement indicates that the Syrian government will receive one of the most advanced systems, which will cover the entire Syrian territory, extending beyond the Russian servicemen deployment areas. Any aviation, which will be classified by the Syrian military forces as an enemy, will become the target of such modern systems of air defense," Bakheet indicated.
Hasan Oktay, the director of Turkey's Kafkassam center for strategic studies, also pointed to Moscow decision implications for security in the region.
"Russia wants to deliver S-300 to [Syria] to enhance the defense of its military bases. That is why it will enhance security in the region in any case… From Turkey's point of view, which recognizes Syria's territorial integrity, it would be helpful. Since Turkey and Russia maintain reached principal agreements on Syria, the Russian side has the flying paths of the Turkish aircraft, and Russia will monitor the spend of air-defense systems, there is no threat to Turkish planes," Oktay said.
Oktay stressed that the decision on S-300 was likely to cause serious concerns in Israel, which would try to act more prudently in the region.
An Armed Gazprom Could Be New Force in Syria
The Iraq War saw the use of commercial military forces – mercenaries – to an extensive degree unprecedented in the modern era. One of the military contracting firms, Blackwater (now Academi), saw four of its security contractors charged with killing 31 people at a Baghdad roadside shooting in 2007 (sentences which were overturned last year). That same year, 2007, there was a similar shift in the nexus between business and security in Russia when Moscow's parliament voted to allow its energy giants Gazprom and Transneft to effectively create their own militaries, with weapons and technology supplied by the Kremlin.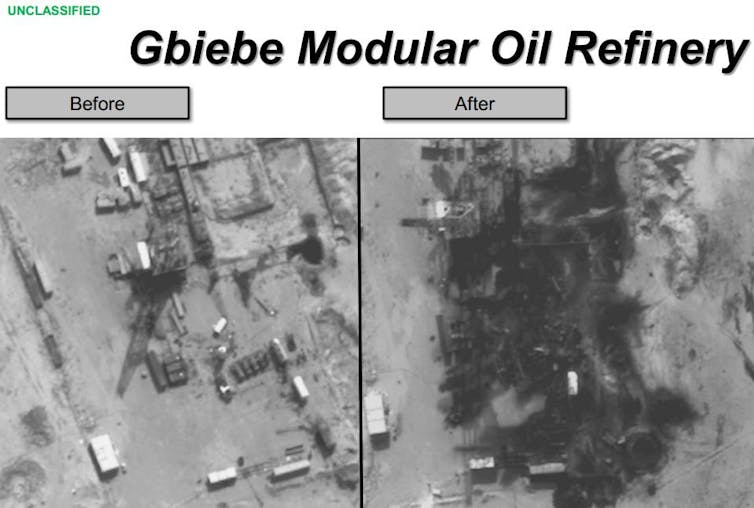 A new sheriff
Many Russian energy giants are itching to return to Syria as the likelihood of stability increases. Assad has responded generously with an invitation to such firms promising lucrative incentives for companies willing to restore Syria's energy infrastructure. The prolonged presence of Russian workers would easily justify military precautions by the Kremlin. Thanks to the 2007 law, such precautions can be taken by the companies themselves. Energy giants like Gazprom (who are rumored to have pushed for the legislation) will be armed and ready.
Gazprom is already described by some as a state-within-a-state, boasting control of one-fifth of global gas reserves. Should Russia deepen its activities in Syria through Gazprom, it will be exporting Gazprom's corporate military to an already politically complex and fragile region. Perhaps this complication will erode Syria's stability further.
Even if Assad regains complete control, a militarised resource company will no doubt create a situation similar to Ecuador, in which foreign oil firms dictate the political arrangements of their local environment, effectively usurping the state and that state's military so that it is the oil and not the people who are protected.
The risk of multinational oil companies eroding the sovereignty of a weak state is a threat also faced by Iraq (where Gazprom also operates). In an effort to combat the risk of such political erosion, Iraq attempted to regulate the activities of military contractors by establishing the so-called Oil Police. The move effectively sent the message that Iraqi oil was for sale but not its sovereignty, meaning that contractors (and multinational companies) were banned from guarding oil and gas installations. The move has had limited effect. Since their inception, the Oil Police have struggled with defending infrastructure from attack, citing poor training and a lack of resources.
And oil is Iraq's only commodity. Without the presence of international energy firms, Iraq's already tumultuous economy would worsen in a country where almost 50% of its GDP relies on hydrocarbon sales. For Assad, Russia remains his strongest supporter and a key reason he has clung to his iron throne. When stability returns, Putin will demand his reward.
Gazprom may be a private company, but its ties to the Russian government make it the perfect instrument for political intervention in the energy arena. While Russia has been accused of using mercenaries in Syria, the next move is to export influential corporations that come with an integrated military (under state supervision). Russia is by no means withdrawing from Syria. As Gazprom adds even military-grade drones to its security assets, we must wait to see whether Assad is able to control the foreign oil and gas companies operating in his country, or whether it is these firms, with the oil and gas assets firmly under their control, who commands him.

Nicolai Due-Gundersen, PhD Candidate and Political Analyst, Kingston University
This article is republished from The Conversation under a Creative Commons license. Read the original article.